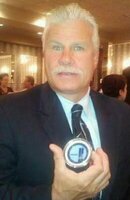 Kirk Hohensheldt
Mr. Kirk R. Hohensheldt, 63, of Carlisle Road, Sprakers, NY died at the Mountain Valley Hospice House, in Gloversville on the evening of Monday May 15, 2023 with his family by his side, Kirk had been a first responder to ground zero, on September 11, 2001, and passed away from complications from working at the site.
Kirk was born in Amsterdam, NY, on September 29, 1959, the son of Edward Hohensheldt and Marion Bartlett Hohensheldt.
Kirk graduated from Canajoharie High School, and went onto study iron working in the iron workers guild.
For the past 26 years he had worked as an union ironworker, most recently for Local 12, of Albany, retiring in 2008. Prior to that he had worked for some time working in the Texan oil fields, and even some time working for Ford Motor Co, in Michigan. Although Kirk had worked all over the country he always looked forward to getting home.
Once home he found much enjoyment in just being in his yard, which he took a great deal of pride in. Kirk was also extremely proud of the tree house that his son and him built, which took them 8 years to build. His long daily walks and riding his Harley were also sources of enjoyment for him.
On July 19, 2009 at their home he married Renee Pantalone.
Kirk was predeceased in death by his father Edward Hohensheldt, two brothers, Eddie and Kevin Hohensheldt, and a special niece Jackie.
He is survived by his wife Renee Hohensheldt; mother Marion Hohensheldt; son Kevin Hohensheldt; Step-daughter Katie Lou (Jared) Jennings;grandsons Greyson and Logan; brother Jeffrey Hohensheldt; sisters Karen Pessolano, Shelia Hohensheldt, Marion Hohensheldt, and Sondra Shafer, and several nieces, nephews and cousins.
The family will be hosting a private service at their home by invitation only.
Arrangements are entrusted to Houghtaling and Smith Funeral Home, 20 Otsego Street, Canajoharie, NY 13317.
Anyone wishing to make a memorial contribution in memory of Kirk, please consider the Calling of the Names, 209 Broadway, New York, NY 10007, this is a 9/11 1st responders help group, which he was part of.