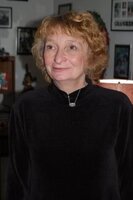 Karen J. Fowler
Karen Fowler, 71, of Garlock St., Canajoharie, passed away early on Mother's Day, May 14th with her loving family by her side.
She was born in Little Falls on June 9, 1951, the daughter of the late Elias and Beverly Boring Hughes.
Karen grew up in Canajoharie and was a graduate of Canajoharie High School, class of 1969. While in high school, she began dating her future husband, Kevin Fowler. After graduation, she attended Curry College in Massachusetts for only 6 short weeks. Stating she had to leave because she missed Kevin too much.
She then moved to Staten Island with Kevin, where they married in November of 1971. Six years later, they returned to Canajoharie, purchasing a home on Garlock street, right across the road from where Karen grew up.
Karen began her career at Central National Bank, but her heart was always happiest when surrounded by children. Therefore, she decided to leave the bank and work at Little Friends Nursery School. Several years later, she started her own day care program out of her house, where she took care of many children in her community.
Karen loved getting her nails done, Spanish omelettes from The Village Restaurant, Pepsi, going to Boston and Facebook. However, her biggest passion was being a nana. She found great pleasure in spoiling her grandkids with love and she was always their biggest, and craziest fan at all of their sporting events.
She was predeceased by her son Kevin "Kevie" Fowler on October 6, 1993 and her parents.
Survivors include her husband Kevin Fowler; son Kyle (Wadia) Fowler; daughter Kamille (Vincent) Logan; sister Linda Fitze; brother Thomas (Karen) Hughes; grandchildren Kelsey Logan; Ariannah Logan; Jordyn Logan; Addison (Aundrella) Fowler; Isaiah Logan; Trevon Fowler; Rayden Fowler; and great granddaughter Lilo Fowler; and many nieces, nephews and cousins.
The family invites friends and relatives to visitation from 4:00-7:00 Pm on May 19, 2023 at Houghtaling and Smith Funeral Home, 20 Otsego Street, Canajoharie, Ny 13317. A memorial service will take place on Saturday May 20, 2023 at 1:00PM at the Canajoharie Reformed Church, 15 Front street, Canajoharie, NY 13317.
Burial will take place privately with the family at Canajoharie Falls Cemetery at a later date.
In lieu of flowers the family asks anyone wishing to make a meorial contribution in memory of Karen to do so to St. Judes Childrens Hospital, 262 Danny Thomas Pl, Memphis, TN 38105 .