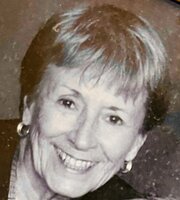 Virginia M. Simonsen
Virginia " Ginny" Simonsen, 88 passed away peacefully on May 12 at her home in Troy, New York with her three sons by her side.
Ginny was a long time resident of Palatine Bridge, NY with her husband Oliver "Ollie" Simonsen who pre-deceased her in August, 2015.
Ginny was born in New York City March 16, 1935, the only child of Platt H. Smith and Florence Belding Smith. She was raised in Fayetteville, New York and graduated SUNY Cortland as a physical education major and multi-sport athlete.
After graduation, she and Ollie met in New Hartford, New York as young teachers and married June 22, 1957. They relocated to Palatine Bridge in the summer of 1963 when Ollie was hired as the elementary school principal for Canajoharie Central Schools.
Ginny was a full-time mom of three active boys who she taught all things sports and she occasionally was a substitute gym teacher in surrounding towns. She was active in the community as a Cub Scout den mother and member of numerous civic organizations including the Palatine Literary Society, and the Mid-County Volunteer Ambulance Association. She was a member of the National Ski Patrol System (NSPS) for over 25 years as a Senior Patroller at Scotch Valley/ Deer Run in Stamford, NY. She and Ollie developed lifelong relationships with many of their fellow ski patrollers traveling to Banff, British Columbia for skiing and meeting at various lake camps in the summer.
Ginny and Ollie thoroughly enjoyed upstate NY life with close friends while camping in the summer on the Great Sacandaga Lake and skiing in the winter throughout the Catskills, Adirondacks, and Green Mountains of southern Vermont.
When Ollie retired in 1988, Ginny went back to college obtaining a degree as a Physical Therapy Assistant and started her second career in the Bassett Health System working in Cobleskill and Cooperstown. She had previously volunteered at Palatine Nursing Home where she developed her passion for caring for the elderly.
She is survived by her children Gary (Nancy) of Madison Connecticut, Eric (Sherri ) of Slingerlands, New York, and Craig (Lisa) of Williamsburg, Virginia. She was a proud and devoted grandmother to Kimberly (Ken Ickes), Erica (Jeff Sayman), Brad (Laura), Drew (Sarah), Haley, Lauren, Oliver, and Owen Simonsen. For many years she organized their birthday parties and was present for many special events including games, graduations, weddings and holidays.
She was a proud great-grandmother to Cameron and Ryan Ickes , Adam Simonsen, and Brooks Sayman. She loved her daughters-in law Nancy, Lisa, and Sherri like her own children. She liked to say she has 3 boys and 3 girls now!
Ginny and Ollie had a long, healthy, and productive retirement traveling routinely to Williamsburg, VA, Myrtle Beach, SC, Zephyrhills, Florida and Madison, Connecticut. They helped the kids move and remodel houses, were present for the birth of grandkids, and hosted birthdays and holidays. They played a lot of golf in their travels south and with many friends at Canajoharie CC . They loved to sit on their deck at the new home they built in Palatine Bridge on Lafayette Street overlooking the
the pastures and the valley.
Since December, 2016, Ginny resided near Eric in Troy, New York at Diamond Ridge Senior Living community and the family is grateful for her personal care assistant Tammy Wolfe's help over the last 6 1/2 years. The family also extends its gratitude to Community Hospice Schenectady ,New York.
Services will be held privately. In lieu of flowers, memorial donations in Ginny's name may be made to the Alzheimer's Association or the Canajoharie Library and Art Museum . To share memories or leave condolences visit www.houghtailingsmith.com