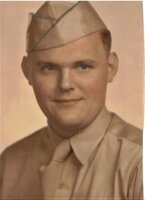 Owen R. Dievendorf
Mr. Owen R. Dievendorf, 98 years, 4 months, 27 days, entered into eternal life on Thursday, May 4, 2023 at the Palatine Nursing Home after a short illness. Owen was born on Dec. 7,1924 in the Town of Root, the fourth son of Katherine (DeKater) and Reuben Dievendorf and was a local resident since 1936. He was a 1942 graduate of Fort Plain High School. Owen served his country in the Army Air Force, enlisting in February 1943. He served in the Pacific Theater during WWII as an X-Ray Technician in the Medical Corps and was honorably discharged with the rank of Sergeant in March 1946. Owen worked for a while at the former Petri's Bakery in Fort Plain until his employment by Beech-Nut Corp in March 1948. After retiring from Beech-Nut in 1985, he enjoyed mowing lawns for a variety of local residents, finally retiring his mowers as he neared his 90th birthday. On September 6, 1947 Owen married the love of his life, Jean E. Welch in the Fort Plain Reformed Church by Rev. Chester C. Chilton. Owen was a man of deep faith and remained an active member of the Fort Plain Reformed Church throughout his life, serving as an Elder, Deacon and most memorably as a long time custodian and a tenor in the church choir. In the fall of 2022, Owen sang a trio in church with his daughter and son, fulfilling a long time dream.
Owen was very proud of his Masonic membership in Fort Plain Lodge #433, joining May 20, 1947. In his Masonic career, he was honored with the Distinguished Service Award, served as Lodge Chaplain for many years and received a special proclamation and apron from New York Grand Lodge on the occasion of his 70th membership year. Owen was also a member of the Fort Plain Senior Citizens, enjoyed the outdoors, puttering in and around his garden filled with various vegetables and flowers. He also enjoyed baking, playing cards, tackling handyman jobs around the house, traveling, listening to classical music (especially the Saturday Metropolitan opera), entertaining in his home, taking care of his feline companions and winning the weekly Scrabble marathons against his son, Robert.
Owen was predeceased by his parents, his wife Jean (May 12, 1981), brothers Gerald Lowell (1926), William A. (September 2008) , Raymond L. (October 2008) and daughter-in-law, Catherine L. (July 2016). He is survived by his children: Karen E. (Blaine) Nellis, Palatine Bridge; Mayor Ronald O. (Amy), Canajoharie; Rev. Robert C. (Canajoharie) and Randall R. (Holly Sweeney), East Amherst, NY, and special care giver Rob Taylor. Surviving also are grandchildren Casey Nellis, Jennifer Nellis, Amber Nellis, Joseph Dievendorf, John Dievendorf, Eric Dievendorf, Stephanie Paradiso and Kristine Sizemore and 12 great-grandchildren and several nieces and nephews and cousins. A funeral will be held at the Fort Plain Reformed Church on Saturday, May 13 beginning at 3 pm following visitation from 2-3pm at the church. Burial will follow at the Fort Plain Cemetery.
The family would like to thank Rev. Nancy Ryan for her loving and caring support, to the staff of Palatine Nursing Home for their compassionate care and most especially Rob Taylor for his tender and loving care of Owen for many years.
Arrangements are entrusted to Gray-Houghtaling and Smith Funeral Home, 34 Center Street, Fort Plain, NY 13339. Online condolences for the family may be left at www.houghtalingandsmith.com .
Memorials in Owen's name may be made to the Fort Plain Reformed Church or the Fort Plain Senior Center.