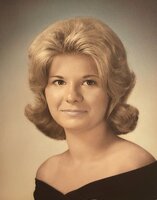 Joan Joyce
It is with great sadness the family of Joan E. Joyce announce her passing. Joan peacefully passed away on April 29, 2023 under the care of Hospice with her husband Peter Joyce at her side.
Born August 27, 1947 in Little Falls to Ralph and Merian (Madison) Paul, Joan grew up in Fort Plain and attended Fort Plain schools, until her graduation in 1965. She later attended and graduated from cosmetology school in Syracuse. After living in the Schenectady and Hilton areas, she then returned to Fort Plain and started her own beautician business, The Golden Hour. Over the course of three decades she gained many loyal clients who regularly came to see 'Joanie' for their weekly coiffed hairstyle. Upon retirement she eagerly took on her favorite role as Grammie Joan, spending time with, and caring for her grandchildren.
During her youth and teens, Joan spent many summers with her parents and sister Nancy on the lakes of the Adirondacks, primarily at the family vacation home on Canada Lake. Tales were told of their adventures spent boating, waterskiing, campfires and even rattlesnakes! Her love for the lake and woods carried with her throughout the years. Later in her life, she and her husband Peter would eventually spend summers at their RV camp in Broadalbin on the Great Sacandaga Lake. Even their home reflected her love of nature, wildlife and the Adirondacks through her decor and collectibles.
Joan married Peter Joyce in 1985. Her family of three, herself and daughters Julianne and Susan, then became a family of six as she gained two 'bonus daughters', Alison and Jennifer. Raising four girls could be challenging at times but it was never done without love. Joan showed generosity and thoughtfulness over the years, sharing her knowledge and joy for crafting, sewing, knitting, painting, cooking, baking, entertaining and even Girl Scouts with the four girls to ensure they were prepared for the world ahead. Many of those hobbies and talents are reflected in her children and grandchildren now. Over the years she and Peter traveled with the girls, and at times with their grandchildren, enjoying many family vacations together. She and Pete traveled throughout the eastern states and even a cross-country RV trip to the Pacific Northwest.
Preceded in death by her parents, Ralph and Merian, Joan is survived by her husband Peter Joyce of Fort Plain and her sister Nancy Keneston of Malta. Daughters Julianne Littrell of Albany, Oregon and Susan (Noel) Fredericks of Schenectady, Alison (Jason) Wallace of Fultonville, and Jennifer (Patrick) Cechnicki of Fort Plain. Grandchildren: Brittany (Marvin) Johnson, Alex Wallace, Joshua Cechnicki, Barry McGovern, Isaiah (Lucy) Cechnicki, Eliza Cechnicki, Katelyn (Christian) Pearce, Emily Fredericks, Ava Fredericks and Lindsay Wallace. Great grandchildren Willow, Marvin III, Eva and Indi Johnson. Nephews Mark (Leigh) Keneston, Scott Keneston. Great nephews and niece Brody Keneston, Jaydon Keneston and Madison Keneston.
Arrangements are being handled by Gray-Houghtaling & Smith, 34 Center Street, Fort Plain, NY, 13339, the family invites family and friends to visitation on Friday May 5th from 5:00-7:00 PM at the funeral home. A graveside service will be held on Saturday May 6th, 2023, at 11:00 am, the Rural Park Cemetery, Ingham Mills, NY, with Rev. Nancy Ryan. In lieu of flowers, the family asks that donations be made to Ayres Memorial Animal Shelter in the name of Joan and 'Miss Kitty'.