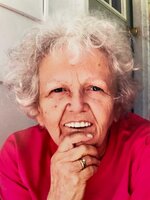 Mabel M. Failing
Mrs. Mabel M. Failing, 82, of Lewis Road, Fort Plain, died following a long illness on April 27th, at her daughter's home.
Mrs. Failing was born on July 25, 1940 in Johnstown, NY the daughter of the late Milo and Mildred Giddings Cook.
She was a graduate of Canajoharie High School, and had obtained her LPN from Herkimer Co. BOCES.
Before her retirement she had worked as an LPN at Ridge Road, Amsterdam, Montgomery Co. as a visiting nurse, and at the local Liberty/ARC for many years.
She was a lifetime area resident. In her spare time she enjoyed sewing, reading, crossword puzzles, and flower gardening.
In Canajoharie, NY in August 1957, she married Neil Failing.
She was predeceased by five of her siblings.
Survivors include her husband Neil of 66 years; three sons, Neil Jr., and his wife Darlene Failing, George Failing, David and his wife Melissa Failing; daughter Christina and her husband Rick Lippman; sister Gail Dicks; ten grandchildren; many great grandchildren; several great great grandchildren; and nieces, nephews and cousins.
A private service will take place at the convenience of the family at Freysbush Cemetery.
The family wishes to express a sincere thank you to Mountain Valley Hospice, and granddaughter Nikia Lippman for the loving and compassionate care she received, allowing her to stay at home.
Anyone wishing to make a memorial contribution in memory of Mrs Failing, please consider the Ayers Animal Shelter, 133 Hilltop Road, Sprakers, NY, 12166.