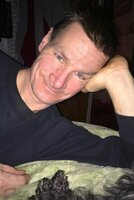 Matthew Starke
Mr. Matthew Starke, 52, of School Street Nelliston, died on March 15, 2023.
Matt was born on February 21, 1971, in Queens, NY. He had lived in the local area for the past 10 years.
He attended the Jehovah Witness Kingdom Hall of Dolgeville. In his spare time, he enjoyed reading and spending time with his wife.
On January 16, 2016, in Canajoharie, NY he married Jennifer Rice.
He is survived by his loving wife, Jennifer, his stepson Riley and his wife Gabrielle Burns.
Arrangements are entrusted to Gray-Houghtaling and Smith Funeral Home, 34 Center Street, Fort Plain, NY 13339.
There will be a celebration of life at a late date, the time and date to be announced.