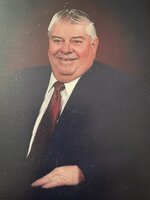 Paul W. Lasher
Mr. Paul W. Lasher, 87, formerly of Main Street, Fort Plain, NY died on Sunday evening, March 12, 2023, at the Masonic Care Community, Utica, NY.
Mr. Lasher was born in Nelliston, NY July 30, 1935, the son of Winfield and Sophie Baum Lasher. He graduated from Fort Plain Central School, Class of 1953, then continued his education at SUNY Cobleskill, graduating from there in 1957, with an associate's degree in applied science.
Most recently Mr. Lasher had been a salesman for various feed companies in the area. Prior to that he was the owner and operator of his dairy farm, Dutch Knoll Farm, in Fonda, NY. While getting his farm going he had also worked at National Grid for a short time.
Mr. Lasher had been a lifelong area resident. He was also a member of the Fort Plain United Methodist Church, he was also active in the 4H, holding the office of Chairman of the Montgomery Co. 4H Dairy committee for several years, he was also a member of the Dairylea Milk Cooperative, and a member of the St. Johnsville Masonic Lodge, #611 Free and Accepted Masons. Once retired he found enjoyment in fishing.
On November 24, 1956, in Fort Plain, NY he married Marie Looman. She predeceased him in death on January 8, 2001.
He was predeceased by his parents, and his brother Keith Lasher and sister Norma Dean Hilpl.
Survivors include his two daughters; Dr. Sharon A. and her husband Randy Hulbert, and Lorraine G. Lasher; three sons, Keith P. and his wife Kathy Lasher, Fred K. and his wife Janet, Lasher, and Scott G. and his wife Ginger Lasher; 16 grandchildren; 17 great grandchildren, 4 great-great grandchildren, and several nieces, nephews and cousins.
A Funeral service will be held on Saturday March 18th, 2023, at 10:00 AM at the Gray-Houghtaling and Smith Funeral Home, 34 Center Street, Fort Plain, NY 13339, with Rev Ryan officiating. The family will receive friends and relatives from 5:00 to 7:00PM on Friday March 17th, 2023, at the funeral home. Burial will take place in the spring at Fort Plain Cemetery.
The St. Johnsville Masonic Lodge #611 will be conducting a masonic service at the funeral home at 6:00PM.
Those wishing to make memorial contributions please consider the St. Johnsville Masonic Lodge, 24 Bridge Street, St. Johnsville, NY, 13452.