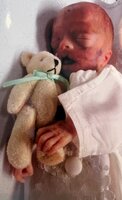 Laikynn Violet Dunbar
Baby Laikynn Violet Dunbar, was born on February 24, 2023 at Albany Medical Center, the daughter of Matthew Dunbar and Elizabeth Bailey. She passed away on March 8, 2023 at the hospital.
She is survived by her loving parents, and twin sister Brynnleigh Dunbar.
The family will be holding services privately at there convience, they are in the care of Gray-Houghtaling and Smith Funeral Home, 34 Center Street, Fort Plain, NY 13339.
Burial will take place in the spring at the Village of St. Johnsville Cemetery.