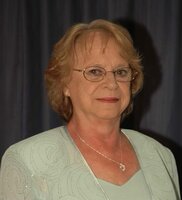 Harriet Euler
Mrs. Harriet Euler, 81, of Argusville Road, Sharon Springs, Schoharie County, passed away on February 23, 2023, at St. Mary's Healthcare, Amsterdam under hospice care and surrounded by her loving family.

Mrs. Euler was born in Browns Hollow, (Town of Root), NY, on June 22, 1941, the daughter of Foster Siets and Lena Gordon Siets, both who
predeceased her.

She was a mother and homemaker, but also had worked for many years at the former Adler Hotel in Sharon Springs, being affectionately known
as the "Tea Lady", as well as helping with the laundry service there. Mrs. Euler attended classes to become a Foster Parent and took care of
Foster Children for many years.

During Hunting Season, she opened her house to her boys and their friends for early morning coffee and breakfast.

Mrs. Euler was an avid gardener and loved her flowers and plants. She enjoyed doing her word search and embroidery.

On May 18, 1958, in Fultonville, NY she married Henry G. Euler, Jr., he predeceased her on January 31, 2020.

She was also predeceased by her son George Euler June 17, 2020. Also predeceased by her two sisters: Josephine Beacraft and Mary Ellen Johnson.

She is survived by her sons, Larry (Barbara) Euler, Richard (Nell) Euler, Dennis (Kim) Euler, Gene (Jennifer) Euler, Ronald (Cherish) Euler
and Daughter in Law Helen Euler. Her sister June Jones. 19 grandchildren, 23 great grandchildren, and 1 great great grandchild, and several nieces, nephews, and cousins.

The family invites friends and relatives to visitation on March 6, 2023, from 10 to 11, with a memorial service immediately following at 11:00 AM, at Houghtling and Smith Funeral Home, Inc., 20 Otsego Street, Canajoharie, NY 13317.

Burial will take place in Slate Hill Cemetery, Sharon Springs at a later date.
Anyone wishing to make a memorial contribution in Mrs. Euler's memory, please consider Ayres Animal Shelter, Sprakers, NY.