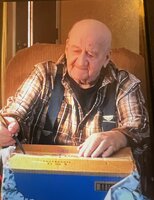 James R. Crews, Sr.
Mr. James R. Crews, Sr., 93, of Fort Plain, NY died unexpedtly on February 21, 2023 at home with his family. He was born in North Adams, Mass., on October 27, 1929, the son of Cecil and Pearl Andrews Crews, both who predeceased him.
He attended schools both in Massachusetts and Fort Plain, NY. He was the owner and operator of Hessville Auto Parts in Fort Plain for more than 60 years, living in the local area since the 1940's.
Mr. Crews was of Lutheran faith.
On September 17, 1949 he married Catherine Searles at the Salt Springville Church. She passed away on January 20, 2011.
He was also predeceased in death by his grandson Jeremy Harrington; and siblings Clifford and Richard, sisters Helen Katovich and Connie D'Arcangelis; sister in laws, Isabell Searles and Margaret Crews; and son in law Rodney Reynolds.
Survivors include his two daughters Sharon Reynolds and Bonnie and George "Butch" Hogan; Son James, Jr. and his wife Bonnie Crews; Brother Roger Crews; Sisters Linda West, Barbara Pedrick, sister in law Irma Crews; grandchildren George, Nathan, Maria, Rebekah, Daniel, Terry, Robert, Chelesa, Ashley; 17 great grandchildren, several great great grandchildren, and nieces, nephews and cousins.
The family invites family and friends to visitation on Monday February 27, 2023 from 10:00-12:00 PM, with a funeral following at 12:00 Noon at Houghtaling and Smith Funeral Home, Inc., 20 Otsego Street, Canajoharie, NY 13317.
Burial will take place at Fort Plain Cemetery at a later date.
Please consider memorial contributions to St. Judes Childrens Hospital, 501 St. Judes Place, TN 38105-1905 or Shriners Children's Hospital, 2900 N Rocky Point Dr, Tampa, FL 33607