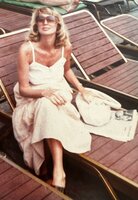 Catharine R. Walton
Mrs. Catharine R. Walton, 85, of State Route 163, Town of Canajoharie, NY, died at home on November 16, 2022. She was born in Yonkers, NY, on June 24, 1937, the daughter of the late Arthur and Catharine O'Brien.
Mrs. Walton was a graduate of Gorton High School, in Yonkers, NY.
She worked as a bookkeeper for the Auriesville Shrine for 12 years. Her and her husband had lived in the local area since 1960.
She was a communicate of the Auriesville Shrine, loved her family and her pets.
On July 2, 1955, at St. Joseph's Catholic Church in Yonkers, NY she married Harvey A. Walton, September 15, 2022, he passed away on September 15, 2022.
Survivors include his sons; Arthur Walton, Christopher Walton and Jeffrey Walton; daughter Alison Walton-Perry; sister Mary Johnson; and her beloved grand and great grandchildren.
Services will be private and at the convenience of the family.
Please consider memorial contributions to Tri State Animal Adoption, 279 Troy Road, Suite #9, Rensselaer, NY 12144.