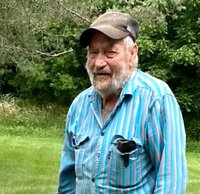 Gilbert Page
Mr. Gilbert Page, 84, most recently of Brand Road, Sprakers, NY, passed away at the Palatine Nursing Home on November 6th, 2022, peacefully in his sleep. He was born in Charleston 4 Corners on October 19, 1938, the son of the late Nathan and Julia Fish Page.
He attended area schools, and worked self employed as a logger. Mr Page had also served in the US Army from 1956-1960, as a chef.
Thought his life he had lived in Alaska, California, Kansas, Arizona, and here in the local area.
Mr. Page was an avid horseshoe player, loved cooking and fishing but his grandchildren were always his biggest love.
He was predeceased by his wife, Valerie Page, his parents, and sister-in-law Melva Page.
Survivors include his daughter Terry and her husband Morris VanHeusen of Sprakers; brothers Larry and his wife Franny Page of Burne, NY and Lewis Page of Speculator; sisters Beatrice and her husband Zeke Martz of Speculator and Ethel and her husband Bob Brooks of Alaska; 4 grandchildren Kimberly Cole of North Carolina, Yvonne Vedder of Troy, NY, Megan Robideau of Esperance, and Michael Wojcik, Jr. of Mayfield; 13 Great grandchildren; nieces Estelle (peanut) and her husband Jay in Alaska, Cheryle and her husband Charlie Lamphere, and many more nieces and nephews who thought the world of Gilbert "Pop" and his K-9 companion of the past 11 years, Lucy.
In lieu of flowers please consider a donation to the Ayers Animal Shelter, 133 Hilltop Road, Sprakers, NY 12166.