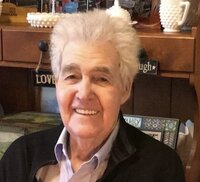 Harold Downes
Mr. Harold Downes, 92, formerly of Clinton Road, most recently of Maple Ave., Canajoharie, NY passed away July 26, 2022, at his home with his wife by his side following a 19-year bout with cancer. He was born in the Town of Palatine, New York, on May 12, 1930, the son of Rutherford and Mildred Hinkle Downes.
Mr. Downes had attended Fort Plain High School and had lived his entire life in the local area.
He was the owner and operator of his dairy farm on Clinton Road, Canajoharie, NY, and had been a farmer his entire life. He enjoyed square dancing in the Cross Trails Square Dancing Club, was a member of the Montgomery Co. farm bureau, the Seebers Lane Grange, playing cards, hunting, driving his motorcycle and snowmobile, traveling on bus trips and cruises, as well as being a committeman for Agway. He had also been a member of Salem United Methodist Church his entire life.
On August 30, 1952, at the Salem United Methodist Church he married Grace Tudor, with them celebrating 69 years of marriage, just missing there 70th anniversary this August.
He was predeceased by his grandson Benjamin Smith, and all his siblings; sisters Doris Downes, Esther Lamphere, Betty Klock and brother Robert Downes.
Survivors include his wife Grace Downes of Canajoharie; Three daughters Jill and her husband Dale Erhardt, Kelly and her husband Varnum Casler of Canajoharie, Penny and her husband Larry Alden of Voorheesville, NY; Son Blair and his wife Louisa Downes of Palatine Bridge; Seven grandchildren; Six great-grandchildren; and several nieces, nephews, and cousins.
A funeral service will be held on Saturday July 30th at 1:00 PM at the chapel of Houghtaling and Smith Funeral Home, Inc., 20 Otsego Street, Canajoharie, NY 13317. The family will receive friends and relatives from 11:00 am-1:00 prior to the funeral at the funeral home. Burial will follow at Evergreen Cemetery.
Anyone wishing to contribute to the memory of Mr. Downes please consider the Canajoharie Vol. Fire Dept., PO Box 28, Canajoharie, Ny 13317.