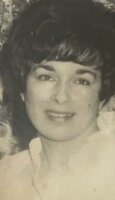 Deanna P. Pellegrini
On December 1, 1941, Alfredo and Lorraine Pellegrini announced the birth of their first child, Deanna Pat Pellegrini. Deanna was raised with her three sisters, Marilyn, Linda and Judy in the Italian section of Canajoharie, New York, on Mohawk Street. Her Father and Mother co-owned and operated Pelly's Grill on the first floor of their residence. It was her father and mother's Grill which inspired Deanna to work in the hospitality industry most of her life. She cherished cooking and serving food to her family and, eventually her own customers. Deanna graduated from Canajoharie High School and Utica Cosmetology school. She married her "Knight In Shining Armor," Jesse Quackenbush Sr. and they
raised five children together: Anthony, Jesse Jr., Thomas, Andrea and Christopher. Deanna owned, operated or managed numerous businesses throughout her career including: Deanna's Beauty Shop; Valley Inn; Dee's Deli; Wiseguys; and Valentino's Italian Restaurant which featured her original and family recipes.
Deanna was a lifelong Christian and devoted her life to walking on the path of her Lord. Deanna was also a student of many religions and found great knowledge and comfort attending services of various churches. To her, the biggest accomplishment of her life was passing her faith to her children and grandchildren by setting examples of her devotion.
Viewing will be held at Houghtaling and Smith Funeral home, Inc. 20 Otsego Street, Canajoharie, New York, from 4:00pm until 7:00pm on Friday, July 15, 2022. A Mass will be celebrated on Saturday July 16th at 10:00AM at Our Lady of Hope Church ,119 Reid Street, Ft. Plain, New York on Saturday July 16, 2022, with burial to follow at the Ft. Plain Cemetery.
The Quackenbush and Pellegrini family would like to express their sincere thanks to Deanna's best friend and confidant, Brenda Hill who Deanna considered as her own child. Also, the family expresses their greatest thanks to the wonderful and professional Staff at Palatine Nursing Home who provided Deanna with loving care in her final days.