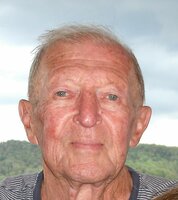 John Krutz, Jr.
Mr. John Krutz, Jr., of Nelliston, NY, passed away on July 7th at the age of 93 after a brief illness. John was born on Valentine's Day 1929, the son of John Sr. and Sue Yurick Krutz.
He was educated in the Canajoharie school system, including a one room schoolhouse in the Town of Palatine.
Along with his brother, Steve he helped run the family farm on Hickory Hill Road in the Town of Palatine.
John served in the Army in Korea during the Korean War. Upon returning home he married Helen Lalik on July 4, 1953. Together they raised five children.
John and Helen moved the family to Michigan in 1956, returning to this area in 1968.
John retired from the New York State Canal System.
John enjoyed hunting, golfing, bowling, motorcycle riding, and working on anything with an engine.
He remained active in the Earl Stock Memorial Valley VFW Post #3275.
John was predeceased by his parents and brother, Steven Krutz.
He is survived by Helen Lalik Krutz; children, Larry and Brenda Krutz of Fort Plain, NY, Terry Krutz and Carolyn Norquist of Ponotoc, MS, Ronald and Susan Krutz of Madison, CT, Janice and Tony Lopez of Davie, FL, Jeffrey Krutz of Perth, NY; 6 grandchildren, Daniel and Arlo Krutz, Casey and Mary Krutz, Tyler and Andrew Lopez; 3 great-grandchildren, Brianna, Bentley, and EdnaMaye Krutz.
Viewing for John will be held on Monday, August 8th from 10:00-Noon at The Chapel of Houghtaling & Smith Funeral Home, Inc., 20 Otsego Street, Canajoharie, NY with the service following and burial at Evergreen Cemetery.
There will be a celebration of life at Jim's Irish Harbor following the burial.