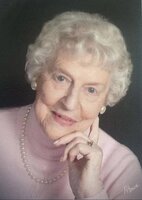 Janet Dorothy Brill
Mrs. Janet Dorothy Cool Brill, recently of Green Cove Springs, Florida, passed away on January 29, 2022. She was born, at home, on September 4, 1926, in Dolgeville, New York. Daughter of Herbert V. Cool and Erma Howe Cool. Her early years were spent in a country environment and she attended "the little red schoolhouse." Her dad's employment with many moves took her to many schools before graduating from Sherburne Central School, Class of 1945.
Janet and Franz W. Brill were married on June 25th, 1948, at the Universalist Church Parsonage, in Dolgeville, New York, with William Homrighaus and Joyce Frisby attending the couple. They celebrated over 69 years together.
Early years of marriage took them to Cortland State Teacher's College, while Franz attended college on the GI Bill and Janet worked in the College Bookstore. After Franz's graduation in 1951, his career took them across New York State and she worked various jobs. Janet enjoyed making new friends and being a mother and homemaker. She was a member of the Canajoharie Reformed Church, many clubs and organizations over the years.
Special memories include a 5 week visit to Hawaii, visiting Wendy and family and a 10,000 mile trip across the USA with Franz, site seeing and visiting family and friends. After many moons, Janet and Coach Brill returned to Canajoharie, New York, in April of 2009, where they enjoyed their homecoming years at Arkell Apartments. Reading and surfing on the iPad became her favorite pastimes and learning how to be "southern" since moving to Florida, after husband, Franz, passed away September 2017.
Janet was predeceased by her parents and brothers-in-law: Richard, Douglas and Laurence Brill.
Mrs. Brill is survived by three children: Wendy Yuknis (Paul) of Green Cove Springs, Florida, Christine Zusy, Waterford, New York, Douglas Brill, (Annie), Voorheesville, New York, 8 grandchildren; Heidi Fenwick (Earl) of Middleburg, Florida, Kirkland Yuknis of Middleburg, Florida, Kyle Yuknis of Middleburg, Florida, Jordynn Zavery (Murtaza) Rochester, New York, Paige Mazur (Travis) Clifton Park, New York, Quinn Zusy, Waterford, New York, Jacob Brill (Erin) of Voorheesville, New York, Daniel Brill (Lauren) of Queensbury, New York, and two great grandchildren, Skyler and Callie Fenwick of Middleburg, Florida, sister-in-law Gretchen Young of Dryden, New York, a special cousin, Joyce Frisby Hochdoerfer of Binghamton, New York and many very dear nieces and nephews.
A memorial service will be held on Saturday, July 16th at Noon at The Chapel of Houghtaling & Smith Funeral Home, Inc., 20 Otsego Street, Canajoharie, NY with burial at the Dolgeville Cemetery in Dolgeville, New York. The family will receive relatives and friends on Saturday, July 16th from 10:30-Noon at the funeral home.
In lieu of flowers, please donate to your local fire rescue..