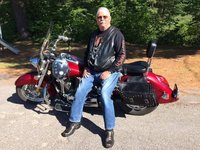 Daniel G. Warner
Mr. Daniel G. Warner, 70, of Clinton Avenue, Fort Plain, New York died unexpectedly Monday, June 24, 2019 as the result of a motorcycle accident.
Born on June 29, 1948 in Gloversville, NY, he was the son of Florence Buyce Kretser and Gilbert Warner. He attended Johnstown High School and was a lifelong area resident.
Mr. Warner was employed with Beech-Nut in Canajoharie for 44 years, retiring in 2008.
He was a veteran of the US Army, serving from 1968-1970.
One of Dan's greatest pleasures was riding his motorcycle. He enjoyed taking rides with his dog, Peanut. He liked classic cars and was a member of the VFW.
On November 14, 1992, at their Johnstown residence, Dan was married to Debra A. Cotton. She preceded him in death on November 17, 2015. His brother, Gary Warner also predeceased him.
Mr. Warner is survived by his children, Shantiel Warner of Cobleskill, NY, Brian Warner of Louisville, KY, Tammy Warner of Gloversville, NY, Craig Warner of Fonda, NY; brothers, Tim Kretser of Nelliston, NY, Ronald Kretser of Fort Plain, NY; sisters, Sandy Duesler of Fort Plain, NY, Linda Praetorius of Chico, CA; 9 grandchildren; 2 great-grandchildren; beloved dog, Peanut; as well as several nieces, nephews, and cousins.
Services are private and will be held at the convenience of the family. Arrangements are entrusted to Gray-Houghtaling & Smith Funeral Home, 34 Center Street, Fort Plain, NY 13339.