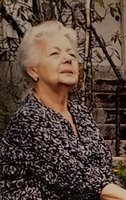 Charlotte Ann Bargstedt
Mrs. Charlotte Ann Bargstedt, 76, of State Highway 5, Fonda "Yosts", New York passed away Friday, April 12, 2019 at her home, with her family by her side.
Born on March 5, 1943 in Gloversville, NY, she was the daughter of Clarence Humphrey and Ada Dutcher Humphrey, who predeceased her. She spent her childhood with Leona and Willard Swartz. She attended Fonda-Fultonville School and was a resident of Yosts her entire life.
Mrs. Bargstedt worked for Nathan Littauer Extended Care for many years.
She was a member of the Fonda-Fultonville United Methodist Church.
Charlotte enjoyed crafts and flower gardens.
On July 8, 1989 at the Fonda-Fultonville Methodist Church, Charlotte was married to George Bargstedt.
Her brothers, Richard Humphrey and Stewart Davis predeceased her.
Mrs. Bargstedt is survived by her husband, George Bargstedt of Fonda, NY; daughter, Lisa Freeman of Yosts, NY; son, Charles Kubly, Jr. of Fonda, NY; step-daughters, Bonnie Bargstedt of Valatie, NY, Laurie Bargstedt of Fonda, NY, Jackie Bargstedt of Texas; 4 grandchildren, Meghann (Bart) Leaird of Indiana, Susie Freeman of Yosts, NY, Ethan Warner of Yosts, NY, Katie Kubly of Fonda, NY; 1 great-grandson, Garrett Warner of Sharon Springs, NY; 1 great-granddaughter, Gabrielle Smith of Yosts, NY; brother, Charles and Carol Humphrey of Broadalbin, NY.
A funeral service will be held on Tuesday, April 16th at Noon at The Chapel of Houghtaling & Smith Funeral Home, Inc., 20 Otsego Street, Canajoharie, NY. The family will receive relatives and friends on Tuesday from 10:00-12:00PM at the funeral home. Burial will take place in Evergreen Cemetery in Fonda.
In lieu of flowers please consider contributions in memory of Mrs. Charlotte Bargstedt to Ayres Memorial Animal Shelter, Inc., 133 Hilltop Road, Sprakers, NY 12166 or to American Diabetes Assoc., Albany Office, 7 Washington Square, Albany, NY 12205.