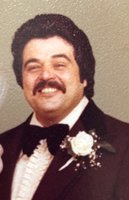 Joseph N Maselli
Mr. Joseph N. Maselli, 72, of Lighthall Road, Fort Plain, New York died Tuesday, March 5, 2019 at his home, with his family by his side.
Born on July 17, 1946 in Mount Vernon, NY, he was the son of Alfred Maselli and Angelina Gelardi Maselli. He has been a resident of the Fort Plain area for the past 14 years, previously residing in Dutchess County.
Mr. Maselli was a veteran of the US Navy, serving from 1965-1971.
He was of Catholic faith.
Joseph enjoyed hunting.
On February 19, 1977 in Mount Vernon, NY, Joseph was married to Anna Bruno.
Mr. Maselli is survived by his wife, Anna Maselli of Fort Plain, NY; sons, Anthony Maselli of Highland, NY, Nicholas Maselli of Marlboro, NY, Federico Maselli of Beaumont, TX, Joseph Maselli, Jr. of Fort Plain, NY; grandchildren, Angelina, Anthony, Isabella, Natalia, Dylan; and 37 first cousins.
Burial will take place at Gerald B. H. Solomon Saratoga National Cemetery in Schuylerville, NY at a later date.
In lieu of flowers please consider a contribution in memory of Mr. Joseph N. Maselli to St. Jude's Children's Research Hospital, Memorial & Honor Program- F, 501 St. Jude Place, TN 38105.