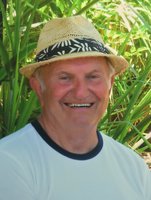 Jacques "Jack" Calbet
Mr. Jacques "Jack" Calbet, 75, of Calbet Road, Fort Plain, New York passed away unexpectadly, Monday, February 18, 2019 at Ellis Hospital in Schenectady, with his family by his side.
Born on March 29, 1943 at the farmhouse on Calbet Road in Fort Plain, he was the son of Maurice Felix Calbet and Louise Saubes Calbet. He was a graduate of Fort Plain High School, Class of 1962 and was a lifetime area resident.
Jack was a custodian and bus driver for Fort Plain Central School for 38 years. He was very devoted to the students. He grew up on his family's dairy farm, later becoming the owner and operator of Calbet "Hel-Jac" farm; a career he enjoyed for many years. He also worked for Palatine Dye, General Electric, and Beech-Nut in Canajoharie.
He was a member of St. Paul's Lutheran Church in Fort Plain.
Jack was an avid bowler and was a member of the Monday Night League at Iroquois Lanes in Canajoharie. He supported and helped his wife and daughter at Sweet Calbet Stables. He loved sports and enjoyed taking the kids of Fort Plain to their games. He supported the students of the school, which included his grandchildren, without expecting any recognition, however he was awarded the yearbook dedication at the school. He even made sure to get on his grandchildren's bus run. With his infectious smile and joyous nature, he made countless friends and left a lasting impression in the hearts of an entire community.
On September 14, 1963 at St. Paul's Lutheran Church in Fort Plain, Jacques was married to Helen Weaver. Together they celebrated over 55 years of marriage.
His parents and sisters, Violet Resila, and Mauricette Nare predeceased him.
Jack is survived by his wife, Helen Weaver Calbet of Fort Plain, NY; daughter, Patricia and Brian Sweet of Fort Plain, NY; son, Mike and Missy Calbet of Fort Plain, NY: grandchildren, Anna Margurite Sweet, Noah Michael Sweet, Jon Jacques Calbet, Louis Brett Calbet; as well as several nieces, nephews and cousins.
A funeral service will be held on Saturday, February 23, 2019 at 11:00AM at The Fort Plain Reformed Church, Canal Street, Fort Plain with Pastor Jonathan Litzner officiating. The family will receive relatives and friends on Friday, February 22, 2019 from 4:00-7:00pm at the church. Arrangements are entrusted to Gray-Houghtaling & Smith Funeral Home, 34 Center Street, Fort Plain, NY. Burial will take place in Fort Plain Cemetery in the spring.
In lieu of flowers, please consider contributions in memory of Mr. Jacques Calbet to St. Paul's Lutheran Church, 36 Lydius Street, Fort Plain, NY.