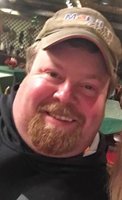 Michael Alan Cole
Mr. Michael Alan Cole, 44, of Moyer Street, Canajoharie, New York passed away unexpectedly, Sunday, February 17, 2019 at St. Mary's Healthcare of Amsterdam.
Born on April 15, 1974 in Amsterdam, NY, he was the son of Albert Cole and Jean Suits Cole. Mike was a lifelong area resident and a graduate of Canajoharie High School, Class of 1992. He attended SUNY Brockport.
Mr. Cole was a Certified GM Parts Consultant for Fucillo's in Nelliston. He started his career with M.W. Roosevelts & Son, Inc. in Canajoharie.
Mike had been a member of the Canajoharie Volunteer Fire Department #209, for over 25 years, where he served as past President, and held several other offices. He was a member of the Loyal Order of the Moose #853 of Canajoharie, member of the Sons of the American Revolution, Member of NYS Children of the American Revolution, was honorary State President, and currently held the position of Senior State Custodian. He enjoyed watching NASCAR, and was an avid sports fan, especially for Norte Dame, and the Dallas Cowboys.
On November 4, 2017 at the Hails Mills Country Club, Mike was married to Nancy Ann Johnson. They had been together for more than 18 years.
His father, mother-in-law, and several cousins predeceased him.
Mr. Cole is survived by his wife, Nancy Ann Cole of Canajoharie, NY; mother, Jean Cole of Canajoharie, NY; son, Garret Johnson of Canajoharie, NY; brothers, Jeffrey David Cole and Lyndal of Kingman, AZ, Anthony Cole and Julie Ruszkowski of Canajoharie, NY; nieces, Shayla Cole, MacKenzie Ruszkwoski, Bethany Hurteau and Scott; nephews, Lucas Cole, David Cole, and Derek Hicks; brothers-in-law, Bruce and Lori Hicks, Michael and Mary-Lou Hicks; his beloved "son", Max; as well as several aunts, uncles, and cousins.
A funeral service will be held on Friday, February 22, 2019 at 10:00AM at The Chapel of Houghtaling & Smith Funeral Home, Inc., 20 Otsego Street, Canajoharie, NY with Rev. Dr. R.W. Williams officiating. The family will receive relatives and friends on Thursday, February 21, 2019 from 4:00-7:00PM at the funeral home, with a service provided by the Canajoharie Volunteer Fire Department. Burial will take place at St. Peter's & Paul's Catholic Cemetery in the spring.
In lieu of flowers please consider a contribution in memory of Mr. Michael Alan Cole to the Canajoharie Volunteer Fire Department, PO Box 28, Canajoharie, NY 13317.