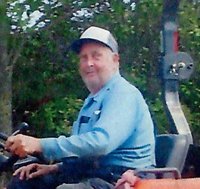 John A. Bramer, Sr.
Mr. John A. Bramer, Sr., 79, of Carlisle Road, Canajoharie, New York passed away Wednesday, February 13, 2019 at St. Mary's Healthcare of Amsterdam, following a long illness, with his family at his side.
Born on January 5, 1940 in the Town of Florida, NY, he was the son of Donald and Marie Bramer. He was a lifetime area resident.
Mr. Bramer retired from Syrstone, Inc., after working with them for many years.
He was a lifetime member of Rural Grove Fire Department, serving for over 50 years. He enjoyed hunting, woodworking, making animal and bird lawn ornaments, and operating his saw mill.
On September 3, 1960 at The Canajoharie Dutch Reformed Church, John was married to EllaMae Hotaling. She preceded him in death on August 19, 2011.
His brothers, Milton Bramer, William Bramer; sister, Janet Hamrick; and son-in-law, Shane Handy predeceased him.
Mr. Bramer is survived by his daughters, Susan and Bill Oevering of Town of Charleston, NY, Deborah and Keith Payne of Memphis, MO, Nancy Bramer-Handy of Town of Charleston, NY; sons, John A. Jr. and Beverly Bramer of Town of Root, NY, Ronald A. and Michele Bramer of Canajoharie, NY; 18 grandchildren; 8 great-grandchildren; brother, Roger and Chris Bramer of Cassville, NY; sister, Donna Lake of Mayfield, NY; as well as several nieces, nephews, and cousins.
A funeral service will be held on Saturday, February 16, 2019 at 1:00PM at Cornerstone Baptist Church, Route 10, Ames, with Pastor Todd Lozier officiating. The family will receive relatives and friends on Saturday from 10:00-1:00PM at the Church. Burial will take place in Pine Grove Cemetery in Tribes Hill in the spring.
Contributions in memory of Mr. Bramer may be made to Rural Grove Volunteer Fire Department, PO Box 219, Sprakers, NY 12166 or to Alzheimer's Association, 4 Pine West Plaza, Bldg. 4, Suite 405, Washington Ave. Ext., Albany, NY 12205.