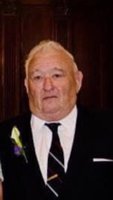 Sherwood Louis Dingman
Sherwood "Shrimp" L. Dingman
Mr. Sherwood L. Dingman, 87, of Paris Road, Fort Plain, NY passed away February 12th, at Albany Medical Center, with his wife and children by his side.
Born on November 12, 1931 in the Town of Minden, NY, he was the son of Louis Dingman and Pearl Minnie Smith Dingman.
Mr. Dingman worked for Perini Corp. for over 26 years putting in the NYS Thurway, Gilboa Dam, Mass Pike, and the Northway. He also worked for Ed Penczek Construction at many locations and for Unit Span, as a Metal Building Erector; completing the Beech-Nut Warehouse and the Moose Lodge in Canajoharie, retiring in 1992.
He was a Veteran of the US Army, serving during the Korean War, obtaining the rank of Corporal.
He was of Lutheran faith.
Mr. Dingman was a member of the Canajoharie Moose Lodge # 853 for over 50 years and received the Pilgrim Degree of Merit, the highest you can receive, in 2006. He received the CNY Fellowship Award, served as District President and Administrator, along with various other positions throughout his time at the Moose. He was a life member of the Fort Plain VFW Earl Stock Memorial Post #3275, charter & life member of the Canajoharie/Fort Plain Elks, member of the AMVETS, the former Smith-Shultz American Legion Post of Canajoharie, and the Cherry Valley Fish & Game Club. He also enjoyed hunting, fishing, and playing cards. He was known to volunteer at many community events as a "Jolly Ole Fellow".
On April 3, 1954 at Starkville Church, Sherwood was married to Shirley Garrison. Together they celebrated over 64 years of marriage.
Mr. Dingman was predeceased by his brother, Wade R. Dingman; his sister, Shirley Lawyer; brothers-in-law, Ralph Eastwood, Fred Lawyer; sister-in-law, Marion Dingman; and cousin, Ronald Dingman, Sr.
He is survived by his wife, Shirley J. Dingman of Fort Plain; daughters, Gloria M. and Edward Kline of Canajoharie, NY, Sharon and John Sebastian, III of Canajoharie, NY; son, William K. and Nancy Dingman of Lansdale, PA; brother, Lyle and Linda Dingman of Fairport, NY; sisters, Beverly and Werner Weigel of Cooperstown, NY, Susan Eastwood of Richfield Springs, NY; six grandchildren, Cassandra (Allen) Heft, Jaclyn Kline and special friend, Judd, Kimberly (Nathan) Fry, Cheryl (Ian) Clark, Daniel (Shannon) Dingman, Shauna Sebastian; six great grandchildren; several nieces, nephews, and cousins; as well as his special hunting friend, Keith Suits.
A funeral service will be held on Saturday 16th at 3:00 PM at The Chapel of Houghtaling & Smith Funeral Home, 20 Otsego Street, Canajoharie, NY 13317. The family will receive friends and relatives prior from 1:00-3:00 at the funeral home. Burial will take place at Fort Plain Cemetery at a later date with Military Honors provided by the Fort Plain VFW Earl Stock Memorial Post #3275 Memorial Squad.
Contributions may be made in memory of Mr. Dingman, in lieu of flowers to, the Cherry Valley Fish and Game Club, or the Ayers Animal Shelter, 133 Hilltop Rd, Sprakers, NY 12166.