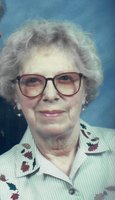 Marguerite W. Summerson
Mrs. Marguerite W. Summerson passed away January 27, 2019 at Palatine Nursing Home at the age of 98.
She was born on April 5, 1920 in Lock Haven, PA, and was the daughter of Mr. and Mrs. Warren H. Wiedhahn. Marguerite graduated from Lock Haven State Teacher College in 1940, majoring in English. Her first teaching assignment was in Hammersley Fork, PA, where she met and married Jay J. Summerson in 1942.
Marguerite and her family moved to Ames, NY in 1944, while Jay was serving in World War II. She taught school in the Canajoharie School System, also working summers at Arkell & Smith Sack Factory, and also in the strained foods at Beech-Nut, Inc. in the 1940's. Marguerite was active in the PTA, the Phythian sisters, the Ames Methodist Church, the Ames Fire Auxiliary, and the Choralairs. She taught at the Canajoharie School System for 35 years, retiring in 1976. As an educator, her students' progress were of the utmost concern to her.
She enjoyed music, camping, and also wrote an anonymous Local Human Interest Newspaper Column for the Cobleskill Journal called "Amy's Letter" in the early 1950's.
She was predeceased by her husband, Jay in 2002.
Mrs. Summerson is survived by her son, Jay V. Summerson and his wife, Gail of Fort Plain, NY; grandson, Jay Andrew Summerson and his wife, Rozanne of Voorheesville, NY; sisters, Ruth Eckler of Chicago, Mary Shuper of Sunnyvale, CA; brother, Warren Wiedhahn & his wife, Jane of Annandale, VA; great-grandchildren, Grace and Nicholas. She is also survived by many nieces, and nephews.
A funeral service will be held on Thursday, January 31, 2019 at Noon at The Chapel of Houghtaling & Smith Funeral Home, Inc., 20 Otsego Street, Canajoharie, NY 13317. The family will receive relatives and friends on Thursday from 11:00-12:00pm at the funeral home. Burial will take place in Ames Cemetery at a later date.
Contributions in memory of Mrs. Marguerite W. Summerson may be made to Ayres Memorial Animal Shelter, Inc., 133 Hilltop Road, Sprakers, NY 12166 or Ames-Sprout Brook United Methodist Church, 613 Latimer Hill Road, Ames, NY 13317.