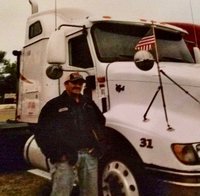 Joseph "Tad" Herting
Mr. Joseph "Tad" Herting, 63, of Walnut Street, Canajoharie, New York died Tuesday, January 1, 2019 at St. Mary's Healthcare in Amsterdam.
Born on October 18, 1955 in Great Barrington, Massachusetts, he was the son of Joseph Herting and Laurette R. Kirchner Herting. He was a graduate of Canajoharie High School and was a lifetime area resident.
Most recently Mr. Herting had worked for Bunno Trucking in Fultonville, NY, as a yard maintenance man. He loved farming.
He was of Catholic faith.
Tad enjoyed snowmobiling, tractor pulls, and truck pulls.
His parents predeceased him.
Mr. Herting is survived by 3 brothers, John G. Herting and Leslie of Tannersville, NY, Nicholas D. Herting and Shari of Palatine Bridge, NY, Hans M. Herting of Palatine Bridge, NY; 3 sisters, Heidi Martha Beyer and Chuck of Mt. Horab, WI, Christa Desrosiers and Robert of Coxsackie, NY, Kathe L. Herting of Rome, NY; daughter, Katrina Herting Calhoun of Gloversville, NY; as well as several nieces, nephews, and cousins.
A funeral service will be held on Wednesday, January 9, 2019 at 2:00PM at The Chapel of Houghtaling & Smith Funeral Home, Inc., 20 Otsego Street, Canajoharie, NY. The family will receive relatives and friends on Wednesday from Noon-2:00PM at the funeral home. Burial will take place in Fort Plain Cemetery.
In lieu of flowers please consider a donation in memory of Mr. Joseph Herting to the Fraternal Order of Eagles, 62 Church Street, Canajoharie, NY 13317.