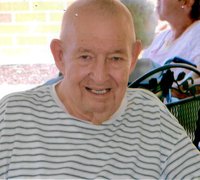 Richard A. Eacker
Mr. Richard A. Eacker, 87, passed away, Saturday, December 22, 2018 at Palatine Nursing Home.
Born on November 27, 1931 in Middlefield Center, NY, he was the son of Adelbert Eacker and Ella Beebe Eacker. He was a graduate of East Springfield High School, Class of 1949 and was a lifetime area resident.
Mr. Eacker was a Machine Operator for General Electric in Schenectady in the Turbine Department for over 25 years, retiring in 1993.
Richard served in the US Army Reserves for 6 ½ years.
He was a member of the Freysbush Lutheran Church.
His first wife, Elizabeth Garrison and his second wife, Doris VanVranknen, with whom he shared 30 years of marriage, predeceased him. His 5 brothers, Dorr Eacker, Elwyn "Jake" Eacker, Walter George Eacker, Orville Eacker, and Charles Clifford Eacker; sisters, RoseAnn Edwards, and Carol Dillenbeck also predeceased him.
Mr. Eacker is survived by his 4 children, Virginia Eacker of Palatine Bridge, NY, Elaine Clark of Palatine Bridge, NY, Mary Silber of Richfield, NY, Charles Eacker of Amsterdam, NY; brother, Adelbert "Junie" Eacker of Nelliston, NY; 9 grandchildren; several great-grandchildren; nieces, nephews, and cousins.
A funeral service will be held on Thursday, December 27, 2018 at 2:00pm at The Chapel of Houghtaling & Smith Funeral Home, Inc., 20 Otsego Street, Canajoharie, NY. The family will receive relatives and friends on Thursday from 1:00-2:00pm at the funeral home. Burial will take place in Fort Plain Cemetery at a later date.
In lieu of flowers please consider a contribution in memory of Mr. Eacker to Mountain Valley Hospice, 108 Steele Ave., Gloversville, NY 12078.