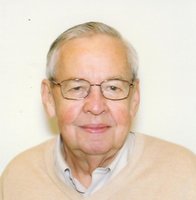 Thomas Hilton Mickle
Mr. Thomas H. Mickle, 85, of Maple Avenue, Canajoharie, New York passed away at the Mountain Valley Hospice House in Gloversville on Sunday, April 22, 2018, following a long illness.
Born on September 18, 1932 in Oneonta, NY, he was the son of Hilton T. Mickle and Frances Louise Palmer Mickle. He was a graduate of Oneonta High School, Class of 1950. He then received both his Bachelor and Master of Science Degrees from Oneonta. He spent most of his life in Canajoharie.
Mr. Mickle started his career as a Teacher in Oneonta. He then became Principal of Middleburgh and from 1963-69 he took on the job of Superintendent. From 1969 until his retirement in 1988, Mr. Mickle served as Superintendent of Canajoharie Schools.
He was a veteran of the US Army, with a rank of Corporal, serving during the Korean War from 1952-54.
He was a communicant of Our Lady of Hope Catholic Church in Fort Plain.
Mr. Mickle was involved with many activities throughout the community and held many honorary memberships.
On July 7, 1956 Tom was married to Joanne LaFave. Together they celebrated 61 years of marriage.
Mr. Mickle is survived by his wife, Joanne Mickle of Canajoharie, NY; 4 sons, Christopher T. and Laura Mickle of North Mankato, MN, Douglas Kent Mickle and Minaksi Bhatt of McLean, VA, Timothy Scott Mickle of Canton, NY, Jeffrey Hilton and Rachel Mickle of Liverpool, NY; 3 grandchildren, Samuel Mickle, Alexandra W. Mickle and Amanda Alcaro.
A Mass of Christian burial will be celebrated on Saturday, May 5, 2018 at 11:00am at Our Lady of Hope Catholic Church, Reid Street, Fort Plain, NY 13339. The family will receive relatives and friends on Friday, May 4, 2018 from 4:00-7:00pm at The Chapel of Houghtaling & Smith Funeral Home, Inc., 20 Otsego Street, Canajoharie, NY 13317.
Contributions in memory of Mr. Thomas H. Mickle may be made to the Community Youth Center of Canajoharie, 9 Erie Blvd., Canajoharie, NY 13317, Montgomery County Office for Aging, 135 Guy Park Ave., Amsterdam, NY 12010, or to Mountain Valley Hospice, 108 Steele Ave., Gloversville, NY 12078.