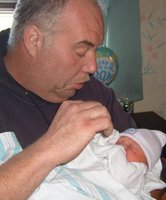 Michael William Cristman
Mr. Michael William Cristman, 51, of Berthoud Street, Nelliston, New York passed away early on Tuesday, April 3, 2018 at Albany Medical Center, surrounded by his loving family.
Born on January 20, 1967 in Little Falls, NY, he was the son of William and Carol Hayes Cristman. He Graduated from St. Johnsville High School. Michael had been a lifelong area resident.
He was of Christian faith. He enjoyed spending time with his children, and grandchildren, as well as riding four wheelers.
Michael was most recently the Senior Grounds Keeper at The Prospect Hill Cemetery Assoc., Canajoharie, NY. Prior to that, he had worked as a mechanic at several area businesses.
On June 2nd 1989 he married Wendy M. Smith, at the bride's grandfather's (Glenn Dillenbeck) home.
Michael was predeceased by his father, and both his maternal and paternal grandparents.
He is survived by his mother Carol Cristman of Amsterdam; his wife of 29 years Wendy Cristman of Nelliston, 2 sons, Justin & Sonja Cristman of Fort Plain, Joshua Cristman and Sarah McDonald of Fort Plain, NY; 2 sisters, Lisa Shaut &Tim Pimkowski of Fort Plain, NY, Wendy Shaut of St. Johnsville, NY; grandchildren Ethan, Cameron, Zoey, Paisley, Nevaeh, as well as several nieces, nephews, and cousins.
The family will receive friends and relatives on Friday, April 6, 2018 at 4:00-7:00pm at The Chapel of Houghtaling & Smith Funeral Home, 20 Otsego Street, Canajoharie NY. Burial will take place at a later date at Ames Cemetery.
Contributions in memory of Mr. Cristman can be made to a charity of one's choice.