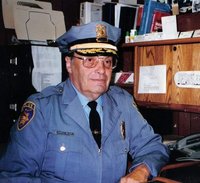 Harold Wilday, Jr.
Mr. Harold Wilday, Jr., 77, of Garfield Street, Fort Plain, New York passed away on Thursday, January 4, 2018 at St. Mary's Healthcare in Amsterdam.
Born on June 7, 1940 in Hamden, NY, he was the son of Harold Wilday, Sr. and Marion Marcella Baker Wilday. He was a graduate of Canajoharie High School and was a lifetime area resident.
Mr. Wilday served in the US Marines from 1958-64.
He served as Chief of Police for Fort Plain from 1972-1996, and was a patrolman prior to becoming Chief.
Mr. Wilday was a member of the former Mid-County Volunteer Ambulance Corp., and a member of the National Chief of Police Association. He enjoyed hunting, bowling, fishing, and being outdoors. He took great pride in his Harley and his Jeep "Lemonade".
On June 26, 1965 at the former St. James Catholic Church in Fort Plain, Harold was married to Denia Rivenburgh.
His brother, David Wilday; sister, Rose Anna Melick; and son-in-law, Jason Van Avery predeceased him.
Mr. Wilday is survived by his wife, Denia K. Wilday of Fort Plain, NY; daughter, Tammy Wilday Van Avery of Fort Plain, NY; sons, Harold Matthew Wilday and his wife, Linda of Sprakers, NY, Scott Allen Wilday of Henrietta, NY; 7 grandchildren, Brittany Van Avery, Morgan Van Avery, Izabella Van Avery, Hanna Wilday, Violet Wilday, Abigail Wilday, and Harold Gabriel.
A memorial service will be held on Monday, January 8, 2018 at 7:00pm at The Chapel of Houghtaling & Smith Funeral Home, Inc., 20 Otsego Street, Canajoharie, NY 13317. with Rev. Nancy Ryan officiating. The family will receive relatives and friends on Monday from 6:00-7:00pm at the funeral home. Burial will take place at a later date.
In lieu of flowers contributions in memory of Chief Harold Wilday, Jr. may be made to The Fort Plain Volunteer Fire Department, PO Box 374, Fort Plain, NY 13339.