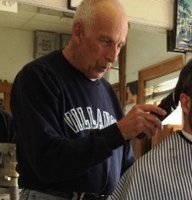 Keith M. Mallery
Keith Mallery, 86, of State Highway 20, Sharon Springs, New York died Tuesday April 10, 2018 at his home, following a brief illness.
Born December 22, 1931 in Cooperstown NY, he was the son of Myron Mallery and Beatrice Ullman Mallery. He was a graduate of Sharon Springs Central School, class of 1951 and was a lifetime area resident.
After being discharged from the 82nd Airborne division of the US Army, Keith joined his father working as a barber in Mallery's barbershop in Sharon Springs. He continued working there until his illness. He also retired from the Sharon Springs School in 1992 after 37 years of service as a bus driver. Prior to his years of service in the US Army, Keith worked in the mail room at Beechnut in Canajoharie and in his youth, worked in the bathhouses "downstreet" in Sharon.
Keith was the Town Justice in Sharon in the early 70's and additionally held the position of Mayor of the Village of Sharon Springs in the early 80's. Also he was a member of the Sharon Springs Voluntary Fire Department. Keith was an avid outdoorsman; he enjoyed hunting & fishing, and won many awards bowling and trap shooting. In his later years he worked part time at the Clark Sports Center in Cooperstown NY and enjoyed spending his mornings there 'working out.' He was very proud of having been a military policeman and paratrooper in the 82nd Airborne and loved telling stories of his jumps.
Keith was married to Phyllis "Chickie" Mallery in Canajoharie NY in April 1955. She predeceased him in death on January 6, 2018. He is predeceased by his parents and in-laws as well as his son-in-law, Dan Crabill. Mr. Mallery is survived by his son, Kevin Mallery of Burlington, CT; daughter Susan Mallery of Sprakers NY; grandchildren Nina, Sam & Will Mallery; and his sister Inez (Bob) Parker of Huntsville, AL.
A graveside service will be held on Friday May 4, 2018 at 1:00pm (weather permitting) at the Sharon Springs Cemetery, State Hwy 20, Sharon Springs NY 13459, with Military Honors. After Keith's burial the family would like to invite relatives and friends to the Sharon Springs Fire Department, Beechwood Road, to share stories and memories of Keith's life (4:00pm til?).
Contributions in memory of Mr. Keith Mallery may be made to Catskill Area Hospice and Palliative Care, 297 River Street Service Road, Oneonta, NY 13820 or to the Sharon Springs Rescue Squad, PO Box 154, Sharon Springs, NY 13459.