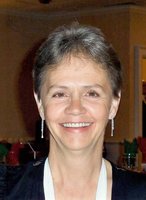 Lori Jeanne Rouse
Mrs. Lori Jeanne Rouse, 57, of Maple Ave., Canajoharie, New York died Sunday, April 8, 2018 at her home, with her husband by her side, following a long battle with cancer.
Born on September 5, 1960 in Amsterdam, NY, she was the daughter of the late Albert A. Oeser, Jr. and Gladys D. Crosier Oeser and was a lifetime area resident. She was a graduate of Canajoharie High School, Class of 1978. She obtained her LPN from Herkimer in 1995.
Most recently, Mrs. Rouse worked as a LPN at Bassett Healthcare in Cobleskill, a position she held for over 17 years. She had also worked for Beech-Nut in Canajoharie for several years, as well as Palatine Nursing Home.
Mrs. Rouse enjoyed hunting, working on the family farm, and taking care of her family.
On November 14, 1981 in Fort Plain, NY Lori married James E. Rouse, Sr. Together they celebrated 36 years of marriage.
In addition to her parents, her 3 brothers, Thomas, David, and Randy Oeser predeceased her.
Mrs. Rouse is survived by her husband, James E. Rouse, Sr. of Canajoharie, NY; sons, Adam and Jamie Field of Canajoharie, NY, James E. Rouse, Jr. and Ashley of Canajoharie, NY; daughter, Jaime Field of Broadalbin, NY; 3 sisters, Carol and Art Meka of Canajoharie, NY, Linda Logan of Stone Arabia, NY, Vicki Casler of Sprakers, NY; 4 brothers, Albert H. and Donna Oeser of Sprakers, NY, Clay and Pat Oeser of Sprakers, NY, Gary and Marie Oeser of Palatine Bridge, NY, Don and Judy Oeser of Sprakers, NY; 2 grandons, Wyatt, and Jackson; and 2 granddaughters.
A funeral service will be held on Friday, April 13, 2018 at 6:00pm at The Chapel of Houghtaling & Smith Funeral Home, Inc., 20 Otsego Street, Canajoharie, NY with Pastor Mark Fowler officiating. The family will receive relatives and friends on Friday from 3:00-6:00pm at the funeral home.
Contributions in memory of Mrs. Lori Jeanne Rouse may be made to Ovarian Cancer Research Fund, PO Box 32141, New York, NY 10087-2141.