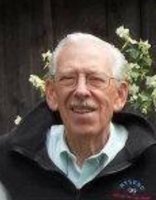 William H. Hisert
William H. Hisert
Mr. William H. Hisert, 79, formerly of Wagners Hollow Road, Fort Plain and most recently of Richfield Springs, NY passed away on Friday, February 2, 2018 at Valley Health Services in Herkimer, surrounded by his family.
Born on August 1, 1938, he was the son of Benjamin Hisert and Irene Pitcher Hisert. He was a graduate of Fort Plain High School, Class of 1957 and was a lifetime area resident.
Mr. Hisert was the Proprietor for TeleComm/TeleNet in Fort Plain, NY, Proprietor of the Wrap and Ship formally of Fort Plain and Palatine Bridge. All this after his retirement from ConTel Phone Company after 25 years of service.
He was a veteran of the US Army, serving for 8 years.
Mr. Hisert was also the Town of Palatine Supervisor for 8 years, and member of the Rotary.
Mr. Hisert was a member of Seeker's Fellowship in St. Johnsville, NY. He also enjoyed hunting and golfing.
Bill is survived by his wife, Doris I. Hisert of Richfield Springs, NY; son, Chad Hisert of Fort Plain, NY; daughter, Lori Branigan of Richfield Springs, NY; Brothers Donald Hisert of Fort Plain, and Gerald Hisert of Cobleskill, NY; grandchildren, Lucas, Cheyenne, Katie, Sam, and Emma. He was pre-deceased by his brother Robert Hisert, and sisters Ethel Crouse and Dorothy Shults.
The family will receive relatives and friends on Monday, February 5, 2018 from 4:00-7:00PM
at The Chapel of Gray-Houghtaling & Smith Funeral Home, 34 Center Street, Fort Plain, NY 13339. A Celebration of Life will be held on Tuesday, February 6, 2018, from 3:00-7:00PM at The House of Bread, Park Place, St. Johnsville, NY 13452. Burial will take place at Evergreen Cemetery on Saturday, June 9, 2018 at 11:00am.
In Lieu of flowers please consider donations to the American Red Cross PO Box 37839, Boone, IA 50037-0839 or The American Cancer Society, 1 Penny Lane, Suite 1, Latham, NY 12110.



.