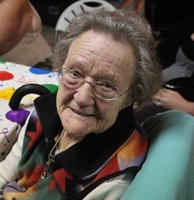 Jantje Jonker
Mrs. Jantje "Jane" Jonker, 96, formerly of Dillenbeck Road and Route 10 (Jonker Farm), Palatine Bridge passed away Monday, January 8, 2018 at home, with loved ones by her side.
Born on June 7, 1921 in The Netherlands, she was the daughter of Hendrick Vanderberg and Grietje Vaartjes Vanderberg. She was educated in The Netherlands and had been a resident of Palatine Bridge since 1951, previously residing in St. Johnsville.
Mrs. Jonker was a mother and homemaker.
She was a member of Trinity Lutheran Church in Stone Arabia.
Jane enjoyed crocheting, knitting, camping, and spending time with her family, especially her grandchildren.
On November 20, 1942 in Holland, Jane was married to Bareld Jonker. He preceded her in death on August 2, 1999. Her grandson, Ryan Cortright predeceased her on July 2, 1992.
Mrs. Jonker, Beppe, is survived by her 4 sons, Sieds Jonker of Palatine Bridge, NY, Hendrick Jonker and Jean of Schoharie, NY, Jan Jonker and Joannie of Homer, AK, Cornelius Jonker of Sharon Springs, NY; 2 daughters, Gretchen and Earl Dillenbeck, Sr., Susan and Beau Cortright of Palatine Bridge, NY; 16 grandchildren; 34 great-grandchildren; 1 great-great-grandson; as well as several nieces, nephews, and cousins.
A funeral service will be held on Sunday, January 14, 2018 at 10:00AM at The Chapel of Houghtaling & Smith Funeral Home, Inc., 20 Otsego Street, Canajoharie, NY. The family will receive relatives and friends on Saturday, January 13, 2018 from 4:00-7:00 at the funeral home. Burial will take place in Evergreen Cemetery in Fonda.
Contributions in memory of Mrs. Jantje Jonker may be made to Mountain Valley Hospice, 108 Steele Ave., Gloversville, NY 12078, Montgomery County Office of Aging, 135 Guy Park Ave., Amsterdam, NY 12010, or to Family Catholic Services, 1 Kimball Street, Amsterdam, NY 12010.