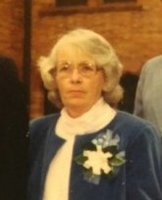 Phyllis A. Mallery
Phyllis Anne (Fleming) Mallery, 85, passed away peacefully on Saturday January 6, 2018 at her home. Survivors include her husband, Keith, sister Janice Webb who resides in Charlotte, North Carolina, her son Kevin and daughter Susan.
Phyllis, or as she was known among her friends and family, Chickie, grew up in Canajoharie, the daughter of Arthur Fleming and Genevieve Hyde Fleming. Upon graduation attended Ohio State University for a brief period before moving back to New York State where she went to work at GE as a draftsman.
Chickie & Keith were married in April 1954 and have lived in Sharon Springs since.
Chickie was very involved with local orgnizations activities, and became the Sharon Springs Free Library librarian for many years until she retired. Her passion was reading, gardening and certain crafts such as painting.
Funeral arrangements are being made by Houghtaling & Smith Funeral Home in Canajoharie, NY. There will be viewing hours on Friday, January 12, 2018 from 3:00-6:00pm at The Chapel of Houghtaling & Smith Funeral Home, Inc., 20 Otsego Street, Canajoharie, NY. In the spring there will be a burial ceremony at the Sand Flats cemetery located in Fonda, NY.
The family wishes that if friends or family desire to make any donations that they be made either to the Sharon Springs Free Library, 129 Main Street, Sharon Springs, NY or the Catskill Area Hospice, 1 Reynolds Ave., Oneonta, NY who helped provide comfort to Chickie.