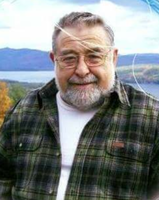 Thomas J. Eno
Mr. Thomas J. Eno, 80, of Gilbert Ave., Fort Plain, New York passed away unexpectedly, Saturday, December 9, 2017 at Bassett Healthcare in Cooperstown.
Born on September 7, 1937 in Corinth, NY, he was the son of Eldric and Thelma Eno. He was a graduate of Corinth High School. After High School Tom worked at various jobs including the Paper Mill in Corinth, Construction, Logging; he also served as Deputy Sheriff of Warren County, was Town Judge of Edinburg, NY, and a game warden.
Tom was a great outdoorsman and trapper. He was a licensed hunting guide. He was New York State Lumberjack Champion for 3 years. His nickname was "Bull of the Woods".
His sister and 3 children preceded him in death.
Tom is survived by his loving partner, Bonnie Taylor of Fort Plain, NY; grandchildren, Michael Ward, Matthew Buell, Heather Buell, John Eno, Ashely Eno; step-granddaughter, Savannah (Rosie); step-grandson, Todd Frasier; and 4 great-grandchildren.
The family invites relatives and friends to South Minden Fire Department, 1029 St. Hwy. 163, Fort Plain on Thursday, December 14, 2017 from 5:00-7:00pm to celebrate his life. Arrangements are under the direction of Gray-Houghtaling & Smith Funeral Home, 34 Center St., Fort Plain, NY.
In lieu of flowers a donation in memory of Thomas J. Eno may be made to The NRA Foundation, 11250 Waples Mill Road, Fairfax, VA 22030.